Development of mucosal vaccine adjuvants for next-generation nasal vaccines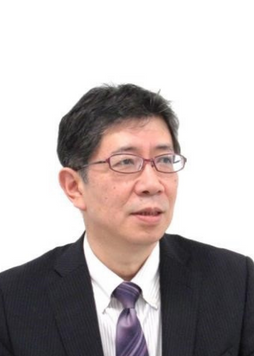 Yukihiko Aikawa, Ph.D. Manager
Research Center for Drug Development and Quality Control Toyama Prefectural Institute for Pharmaceutical Research

【Research Theme】
A nasal vaccine that controls viral infections and is effective for the elderly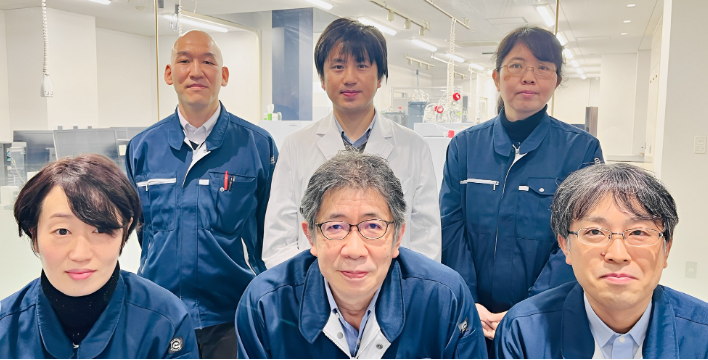 【Background】
Vaccines are used worldwide as the most effective means of preventing infection with pathogens and the aggravation of symptoms caused by infection. Although current injectable vaccines induce pathogen-recognizing immunoglobulin (Ig) G antibodies in the blood, they do not induce secretory IgA antibodies, which play an important role in defense against infection, on the entry site for pathogens such as mucous membranes (ex. the nasal cavity). Therefore, injectable vaccines can be expected to prevent aggravation, but cannot be expected to be highly effective in preventing infection.
On the other hand, since nasal vaccines can induce secretory IgA antibodies in the mucosa in addition to IgG antibodies in the blood, it is expected to be a next-generation vaccine that has both protection against infection and prevention of aggravation. In addition, IgA antibodies have high cross-reactivity and are reported to be able to respond to various pathogens. Since an immunomodulator "adjuvant" is essential for efficient immunity induction by mucosal vaccines, the development of new safe and effective mucosal adjuvants is required.
【Outline】
In this research, based on several adjuvant candidate compounds discovered in previous research, we have been studying with efficacy, safety and formulations, and detailed analysis of the mechanism of action for practical application.
We have confirmed that the desired immunity, such as IgA and IgG antibodies, can be induced by intranasal administration of influenza antigen only when the mucosal adjuvant candidate compound is co-administered in experiments using mice. In parallel, we have been (1) collecting basic data related to safety, CMC (Chemistry, Manufacturing & Control) such as synthesis method, analytical method, purity, stability, etc. which is required for commercialization and (2) extracting issues in development and examining solutions. Furthermore, we have been conducting a detailed analysis of adjuvant performance and efficacy when using antigens of infectious diseases other than influenza.
If a nasal vaccine that can be manufactured with a small amount of antigen can be put into practical use by using a new mucosal adjuvant, it is expected that more vaccines that are effective in protecting against infection itself can be manufactured in a short period of time and supplied to the medical field. We believe that this will be a useful tool in terms of countermeasures against pandemics, which have become even more important due to the emergence of COVID-19.
In the future, we would like to demonstrate its usefulness as an adjuvant for intranasal mucosal vaccines that are effective against various infectious diseases such as influenza, and we would like to lead it to development by companies for social implementation.
Characteristics of the nasal vaccine:
・Induces secretory IgA antibodies in the mucosa in addition to IgG antibodies in the blood.
・Prevents the infection itself.
・Shows High cross-reactivity.
・Is not painful, unlike conventional injections, because the nasal administration is simply sprayed into the nasal cavity.
・Is easy to use even in an environment where medical staff is not well-equipped because it does not use a syringe.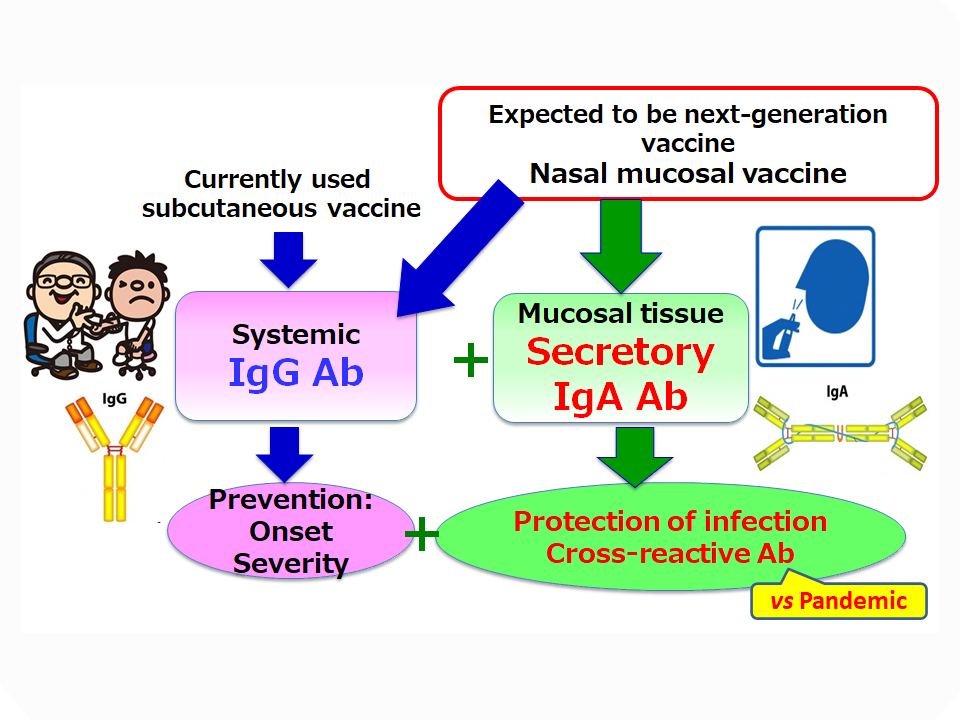 Inquiries
Please get in touch with us